Member
Join Date: Oct 2012
Posts: 4
Jetta Pass floor wet
---
I have a '97 Jetta GT that's leaking water onto the passenger area of the floor.
First off I can say 100% its not the Sunroof drains as I have checked them and they flow excellently and no water comes into car even when I pour several cups worth of water through.
I took the rain guard out and although it had some leaves under there which I cleaned it still leaks and the leaves where 100% dry so seals are all working well on the raingaurd.
its also leaking from the lower door hinge on both the driver and passenger side(but this just drains to the ground) and the driver side footwell does not get wet.
The leak gets worse when I have the front end pointed up a hill(on incline) its almost non existent on flat ground(heavy rain overnight results in a few dribbles) when on a hill its a steady large drip.
Some pics of leaking area, the actual leak is dripping onto the yellow spunge looking square of insulation. Also all of the pics where taken while it was currently raining heavily(I was soaked after being out in it for 5min).
Does anyone know where the drain pictured in the bottom left of the first pic goes? is it prone to clogging?
Water seems to be flowing correct direction here...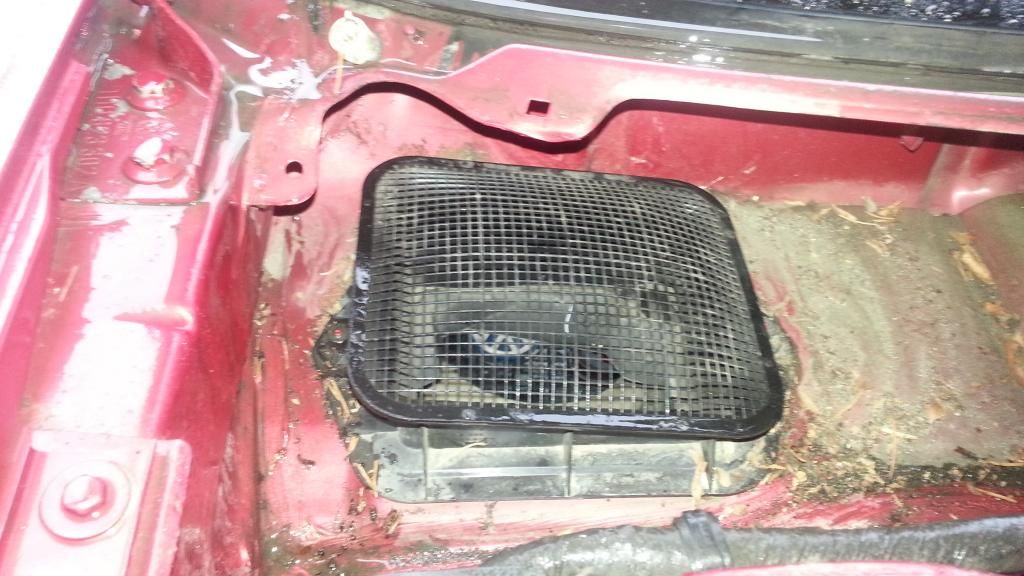 Obviously been a small leak for a long time judging by rust...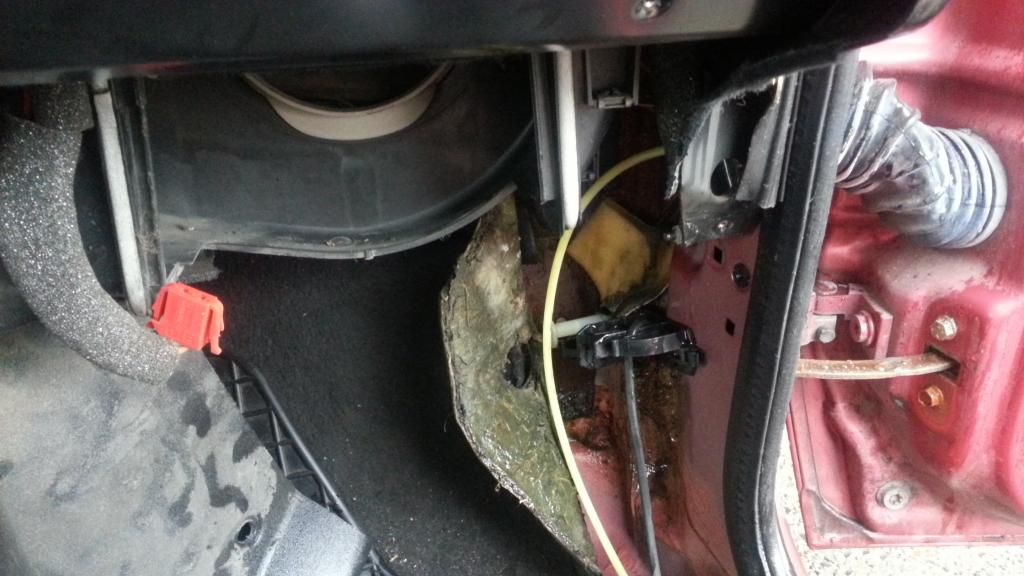 Member
Join Date: Oct 2012
Posts: 4
Right after posting this I had a thought to pour water directly down the drain under the cowl and it drains much to fast to have a build up bad enough to drip into the car from up high.. so definitely not the issue.
Unless someone has any other good ideas my next step is going to be disassembling the entire dash to get a better look. Actually i will probably follow
this guide
first and if that doesn't help then pull dash apart.
---
Last edited by Dreded; 10-31-2012 at

02:15 PM

.
Member
Join Date: Aug 2012
Posts: 17
Does it have any type of a smell? Does your heat work? Could be a bad heater core. But if not then I would say the guide u want to fallow will be a good place to start.
---
Last edited by slooten1; 11-12-2012 at

03:16 PM

.
Currently Active Users Viewing This Thread: 1

(0 members and 1 guests)
Posting Rules

You may not post new threads

You may not post replies

You may not post attachments

You may not edit your posts

---

HTML code is Off

---