With the growing market for coilover suspension systems for the MK4 platform, it can be confusing on which setup is right for you and your MK4. Basically every coilover setup does the same thing. Allows you to set your ride height by adjusting collars that will raise or lower where the springs sit. this also effects the suspension travel. A lower ride height will have less suspension travel which can result in a rougher ride compared to an OEM suspension. A higher ride height will give you more travel and a more comfortable ride. Most Coilover setups on their highest setting will have a lower ride height than an OEM suspension. This Thread will go over what makes up the coilover suspension, different types, adjusting, Brands, and reviews.
lets break down what is in a MK4 Coilover Suspension. The Front suspension components of the coilover setup is a true "Coil-Over". meaning, Coil over the shock.
1. threaded coilover body(strut)
2. main spring
3. helper spring
4. strut nut
5. spring hat
6. Dust boot
7. Bumpstop
8. plastic dust cover
9. Plastic Spring Spacer
10. adjusting collars
The rear is much different. it remains the same as OEM just using a much shorter spring and shock. also uses a adjustable spring perch.
Most Setups don't come with instructions. So when you lay everything out this is what you get. some companies components look different but function the same way.
Now there are a few different options that coilover companies offer.
1. Dampening Adjustable
This allows the user to adjust the firmness or softness of the suspension.this is a really good option to those who drive spirited or even autocross. you can set the suspension for a sporty aggressive ride or soft and comfortable for daily driving. most front adjust from under the hood at the top of the strut. most companies supply a tool for doing this.
[/IMG]
Rear adjustment can be simple as turning a knob of the bottom of the rear shock or require removing the rear shock from the car to do so.
simple adjustment
requires removing the shock and following the companies procedure for adjustment.
2. Threaded and adjustable strut body
only a few companies offer this option. this allows the user to adjust the overall length of the strut body. this will allow for more ride height adjustment and more suspension travel.
Adjusting the Coilovers
The Coilovers can be adjusted once installed. adjusting the fronts is done with the use of the 2 supplies collar wrenches. turning the collars down towards the bottom of the coilover body will lower the ride height.
adjust both sides evenly and check the ride height to be sure it is even. sometimes fine adjustment is required.
the rears adjust similar but since the spring is separate from the shock, the spring sits on the perch which has the adjustment collars. adjusting the rear is the same concept as the front.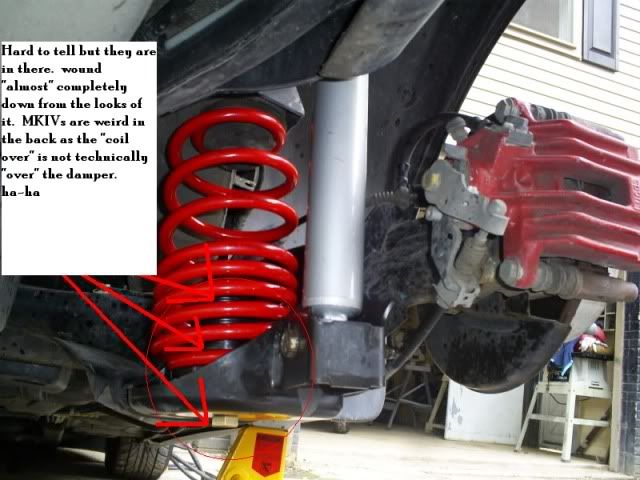 again measure to make sure the ride height is even.
Brands
Right now there are easily over 10 different manufactures of coilover suspensions for the mk4. prices range from $300 to over $1500. choosing which one is for you comes down to budget and options. do you want spend $1000+ or spend less. usually cheaper coilover suspensions don't last as long, do not offer dampening adjustability or have threaded bodies. these are considered your entry level coilover. most are around $500.
too be continued...
Brand: Raceland Coilovers
Miles driven on: 40,000
Spacers: ran 33mm adapters
FTG: 23.75in
Price: $279 (2009)
Purchased at: eBay
Other Information: Ran them for over 3 years. Only real complaint was a little bouncy and soft spring rates. Bodies got rusted too. Rear shocks did not last long.
Brand: FK Highsport
Miles driven on: 15,000+
Spacers: Yes. 5mm
FTG: 23.75
Price: bought used. New around $850
Purchased at: locally
Other Information: bought used. Replaced the inserts and rear shocks with Koni dampening adjustables. Ride really great. Bodies resist rust. Only downfall is they don't go as low as most coilovers. Much stiffer than racelands.
[/IMG]